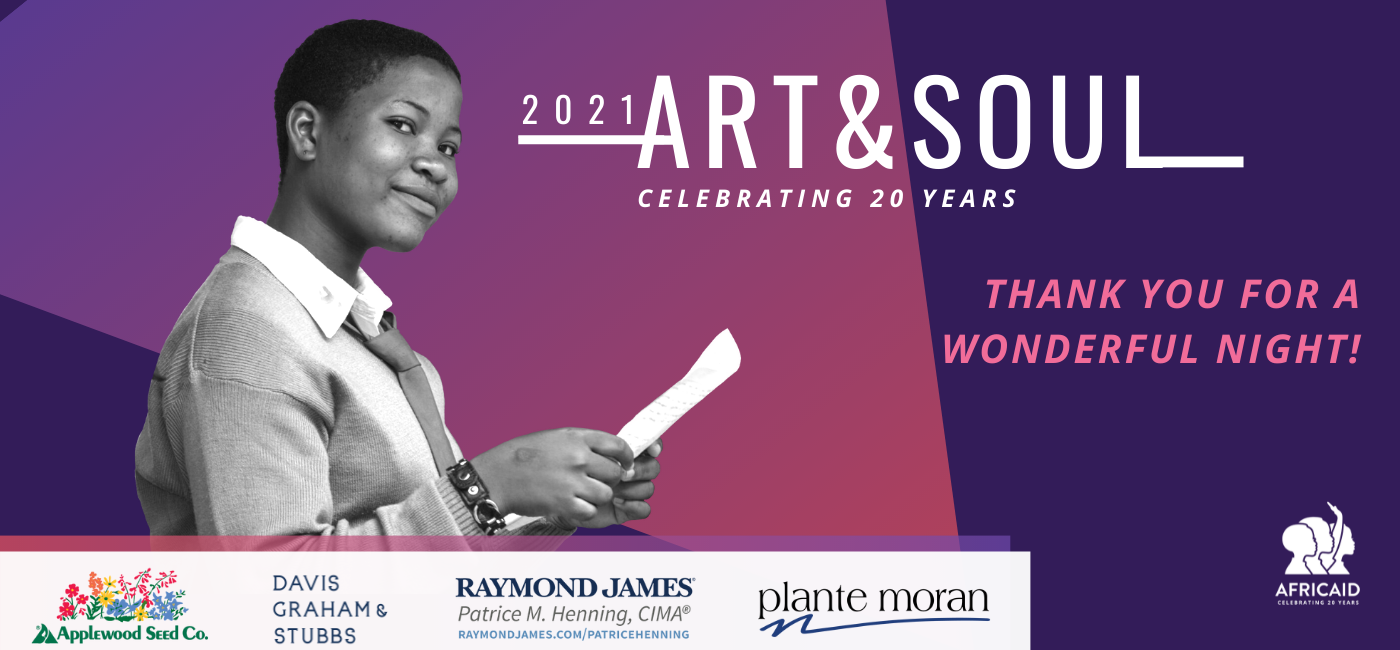 2021 Art & Soul – Thank You for Celebrating With Us!
Thank you for a wonderful 20th anniversary celebration!
On Saturday, August 14, AfricAid celebrated our 20th anniversary at Art & Soul in downtown Denver, CO. Emceed by 9NEWS Anchor Anusha Roy, a festive night celebrated two decades of AfricAid support for girls' education and mentoring programming in Tanzania.
Thanks to our generous event sponsors – Applewood Seed Company, Davis, Graham & Stubbs, Patrice Henning of Raymond James, and Plante Moran – and thanks to the generous individuals who attended this event, we were able to exceed our $65,000 goal and raise $68,284 in support of girls' mentoring programs in Tanzania!
Couldn't make it to the event? Read on to experience it virtually!
Our Featured Alumnae Speakers
The evening included inspiring stories from program alumnae Josephine Masandika and Stumai Simba, who shared how AfricAid helped them become the successful, professional women they are today.
Josephine Masandika
Over a decade ago, Josephine Masandika was head girl at her school when AfricAid founder Ashley Shuyler Carter visited to deliver donated computers. Josephine shared that she hoped to be a bioengineer one day. Through AfricAid, she was able to leverage introductions and opportunities to earn a scholarship to attend the prestigious Emma Willard School, continuing her education at Lake Forest College where she graduated cum laude with a degree in Biology and Neuroscience before earning a Master of Science in Biomedical Engineering from the University of Illinois at Chicago. Today, Josephine is living her dream as a bioengineer for Baxter International, and recently joined the AfricAid Board of Directors.
Hear Josephine share her story at Art & Soul:
Stumai Simba
Stumai Simba is an alumna of the 2013 Kisa Project who has become a successful business owner through her Tanzania-based food business, Porridge Point, and her clothing line, Magic Hands. In 2018, she was the recipient of the Malkia wa Nguvu award (Swahili for "Mighty Queens") for Business Innovation. The award seeks to recognize resilient, visionary women of character from all walks of life who surmount challenges in life to motivate and inspire. At Art & Soul, Stumai spoke about her journey and how the entrepreneurial skills she learned through Kisa Project helped her achieve business success.
Hear Stumai share her story at Art & Soul: